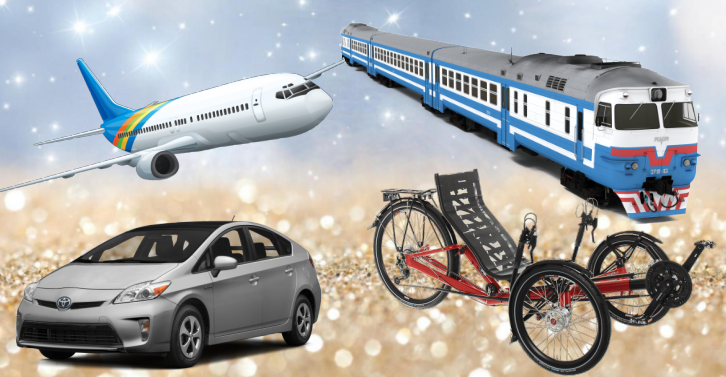 By Martin Jansen, Owner of Jansen-PCINFO
Whether you are traveling for work or for pleasure, it's important to create a list so nothing is forgotten. There's nothing worse than getting to your destination and finding you forgot your toothbrush or some other important item. This article will start with a list of items everyone needs while traveling plus a few tips for packing.
I know, this article has little to do with technology, my main vocation, but everyone has to travel occasionally, even for a few days. This article is for you.
Let's start with a list. I've put together a biking vacation list with category headings at the top. I've shared the list here. You can download or copy and paste this list to your own spreadsheet and modify it for your type of traveling.
Tip #1 – Roll Those Clothes
Rolling clothes into tight little bundles takes up a lot less space in the drawer and the suitcase. Here's an image of the folded versus a rolled T-Shirt:
Rolling works so well that we have all casual clothes rolled in our drawers for easy selection. Stacked folded shirts, by comparison, must be sorted through to find the clothes needed for the day.
Tip #2 – Shaving with Razors
I use Shave Secret drops for my daily shaving along with a Harvey handle and blades. Shave Secret comes in 18.75 ml bottles perfect for travel and well below the 3 oz maximum for flights. I lather up with soap and then put two or three drops on my palm to spread over the shaving area. The oil in Shave Secret lets the blade glide over the skin to prevent irritation yet provides a close shave. One bottle lasts roughly a month. Walmart usually carries the brand.
Side tip: After using a razor, rinse the blades and dry with a towel. The blades will last longer.
Tip #3 – A Mesh Bag for Dirty Laundry
It's a good way to separate clean laundry from the dirty.
Tip #4 – Don't Over Pack
For underwear, we count the days we are going to be gone and add one extra pair. Pants, Shirts and shorts can be worn more than one day. One dressy outfit will suffice for the duration of the trip. If gone for only a few days, a cell phone is all you really need. Disconnect a while and enjoy the trip.
Tip #5 – Print the Travel List
Take your travel list with you or have it available on your phone. Leaving things behind is just as bad as not having the things you need. We double check everything is packed away before leaving.
I'm sure that this is not a comprehensive listing of tips, just a few we have learned along the way. Any other tips you would like to add? Just let me know in the comments.