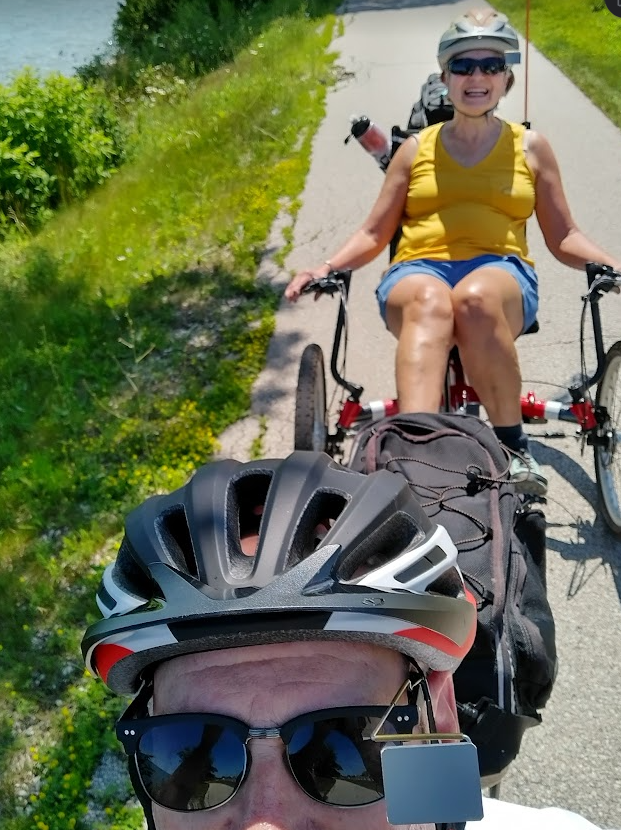 My wife and I own Terratrike Travelers and live on the south side of Appleton, almost in Menasha. We love to ride our Terratrikes in our neighborhood, often riding as far as the Friendship Trail and back.
Our favorite ride, however, involves The Fox Cities Paper Trail.
I roll our trikes from the garage making sure our packs are in place. In order to be seen, we have American Flags attached to driveway marker poles. These poles fit nicely in the grommet holes in the seat of the trikes. We wear helmets, of course, and rear view mirrors attached to our glasses to see traffic behind us. Instead of straps to hold our feet in place on the pedals, we have biking shoes with clips.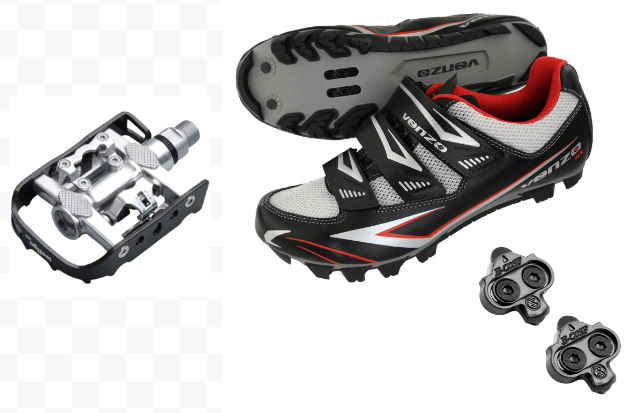 Trikes have several advantages over regular bikes:
The chance of falling off the trike is greatly reduced.
We can ride slowly or come to a complete stop and not dismount.
Seating is comfortable with no weight on shoulders or hands.
Older adults sometimes have balance issues, trikes are secure.
Some disadvantages:
With 20 inch wheels we are slower than bikes, but this could be an advantage to avoid injury.
We are lower to the ground than regular bikes and are less conspicuous to drivers. That's why we use flags, but less chance of injury if ever falling off a trike.
Trikes may require a little more maintenance with long chains and stress on the drive train. Fortunately, I am a good mechanic and don't often need to bring in the trikes for service.
We love to ride our trikes because it combines great and secure exercise with a view of nature. And it is something we can do together as friends and family.
Back to the ride. We travel south on Whip-poor-will Lane and cross Midway Road at the safe pedestrian crossing. I can't overstate how important the crossing is for pedestrians, school children, bikes and trikes. Drivers often exceed the 30 mile per hour speed limit in this area. Crossing without the light would be dangerous.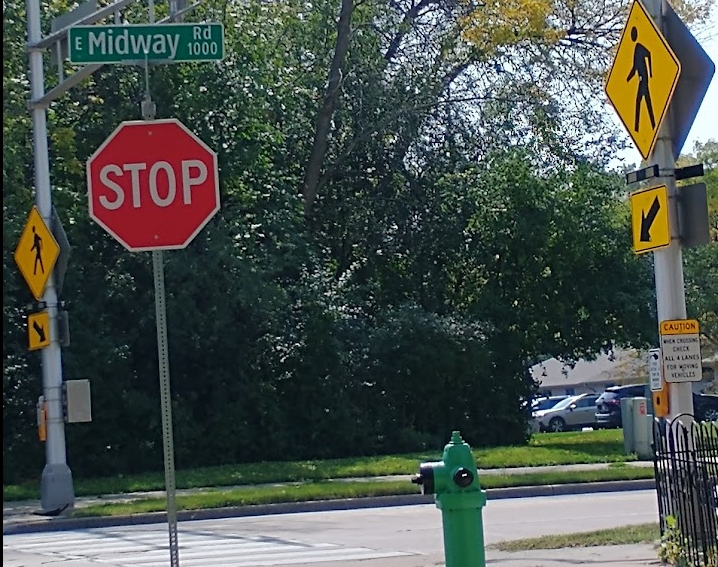 After crossing Midway we ride past Eternal Love Church and then turn South on to the trail at Oak Park Place.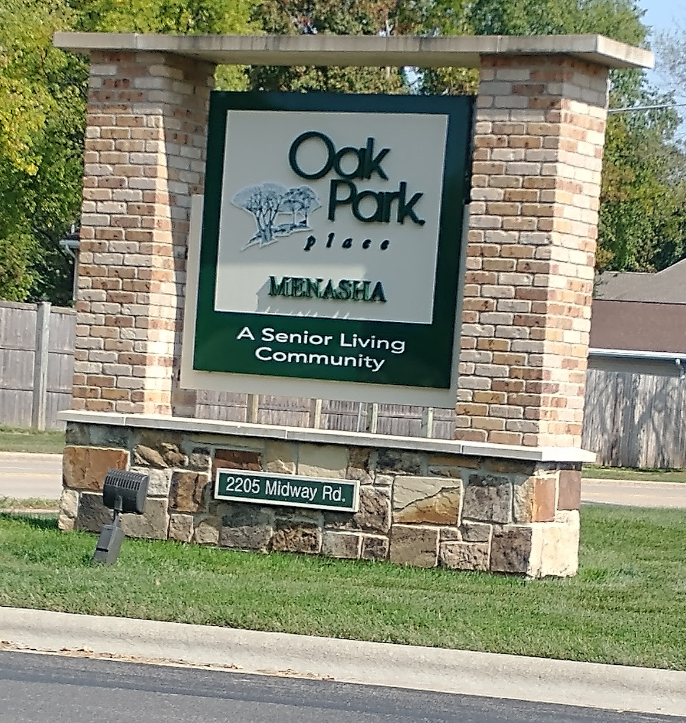 Our next turn takes us on to Cottonwood Drive for an ⅛ mile or so. Then we turn on the trail through Barker Farms Park.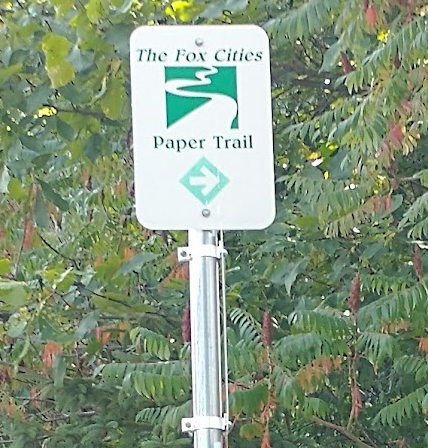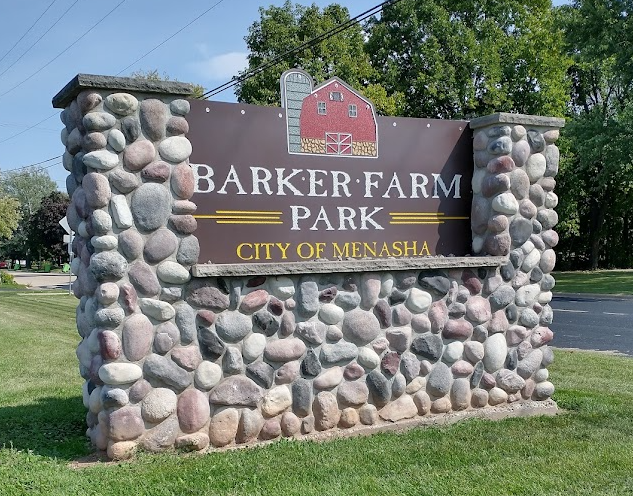 We ride past the tennis or pickle ball courts and again headed South crossing Plank Road. This takes us to Carpenter St to Manitowoc Road turning right for half a block. Then we head south once again on Grassy Meadow Lane.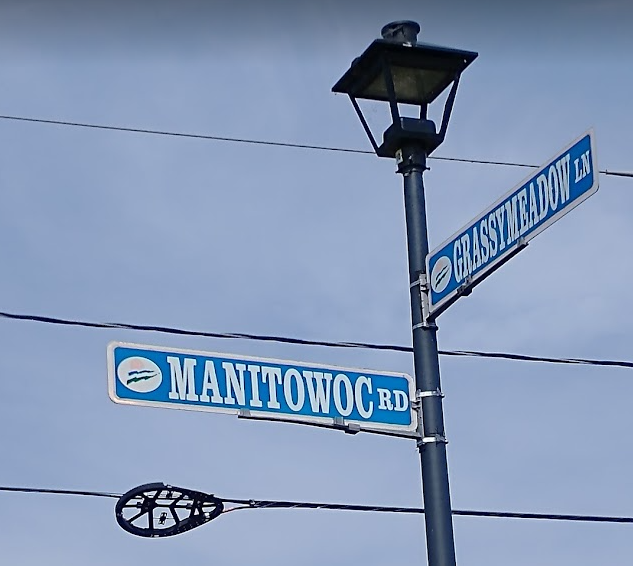 We take the lane which is very much a downhill ride to the end and turn left, catching the trail once again at the Menasha Conservancy.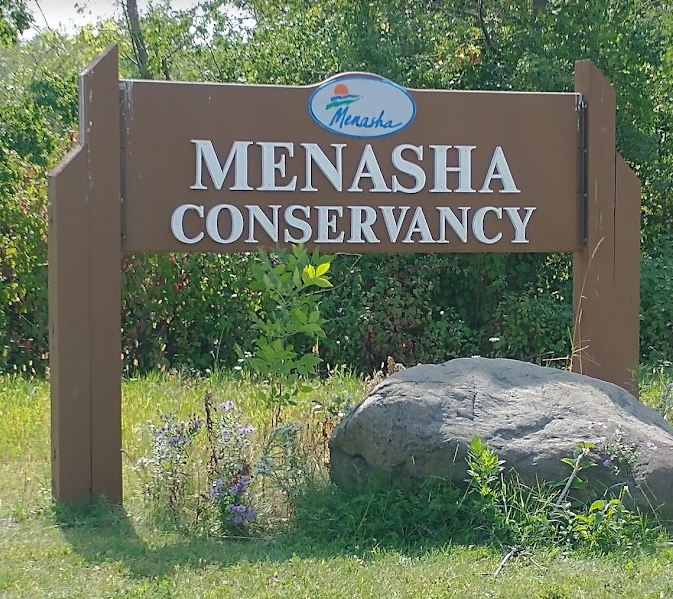 Again we are going downhill. Any bike or trike rider knows that if you go downhill a lot, eventually you have to pay by going uphill (usually against the wind too).
The trail is very pretty at the Conservancy as you travel past a very unique bench for visitors.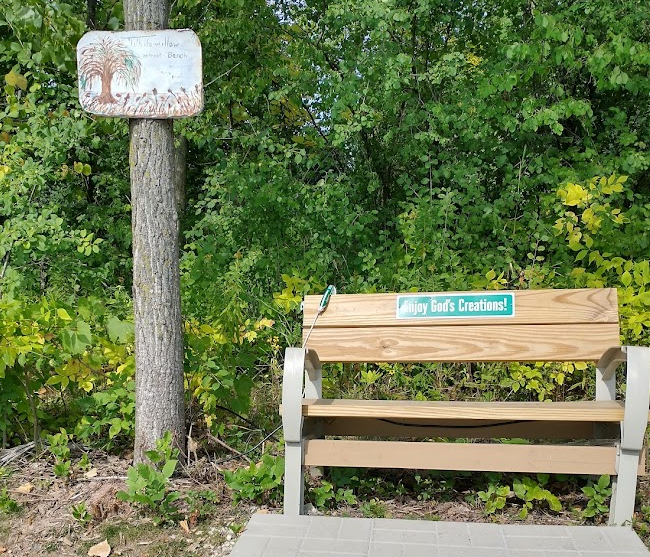 The trail connects with Nature's Way at the end.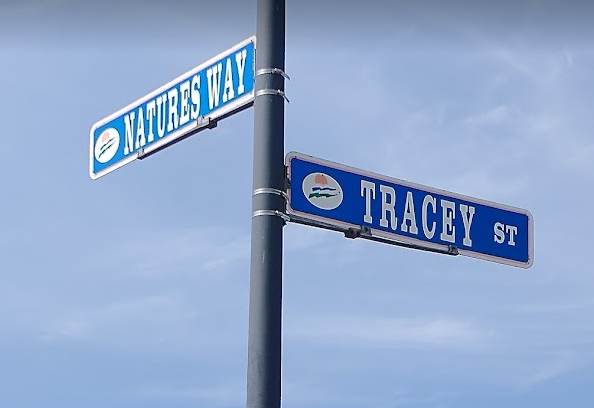 We ride a couple of blocks and then turn south again on to the trail with a bridge over swampy land.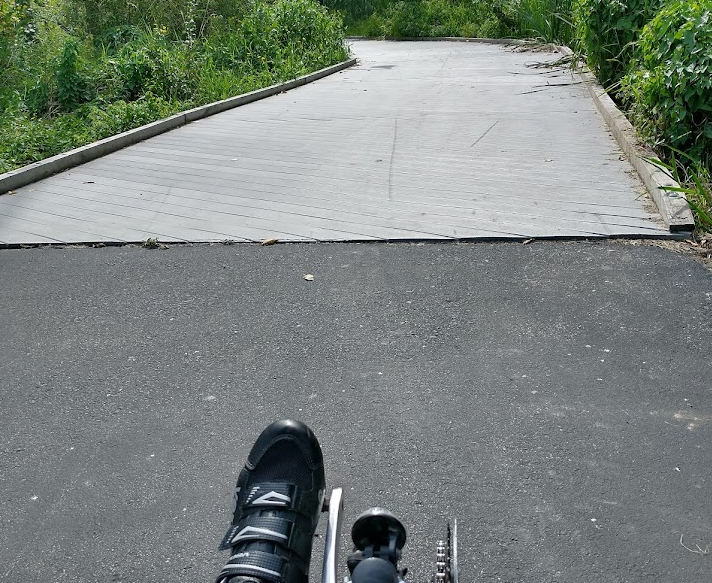 It's like a little taste of the bayou right here in Wisconsin. The southern part of our trail usually ends at the Kwik Trip on 114.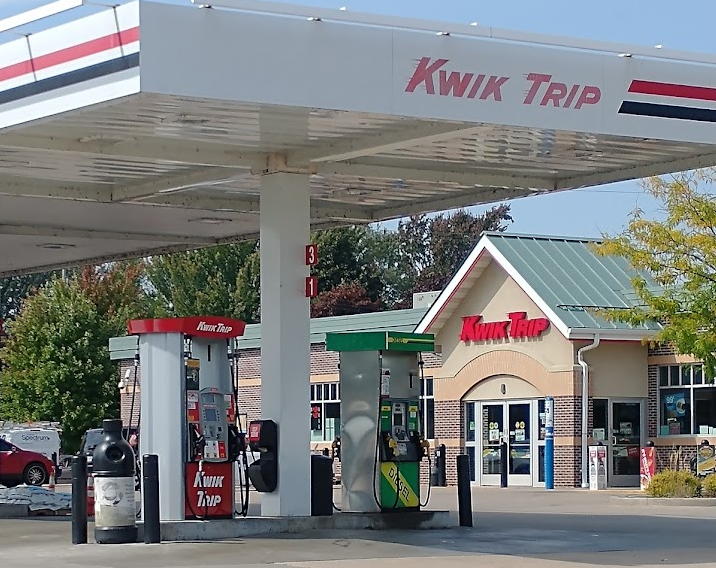 We sometimes pick up bananas here, or, if we are feeling ambitious, we could cross the road and continue along 114 on the south side of the trail to Jefferson Park. Occasionally we will continue on and do the Friendship Trail along with Loop the Lake.
We do Loop the Lake when we want to prepare for longer rides like Bike to the Beat in August.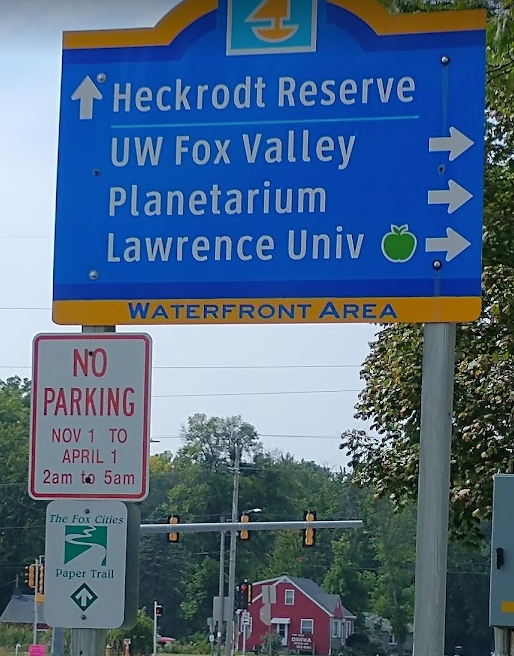 Usually we just turn around at this point and head back going North. Once again, we cross the bridge over the swamp land.
We start to pay for all the downhills and start climbing as we approach Nature's Way. In Spring, when we first start riding again, the slow uphill grade is a killer as we are not in good triking shape.
In summer, however, with many rides accomplished, we are in much better shape and the uphill is no big deal. Just pick the right gear and keep the pedals turning.
We are traveling North now crossing Manitowoc Road. At this point we have a choice as to take the directly North on the trail along Province Terrace, or, if the traffic is bad, we can head back to Barker Farms Park along Manitowoc Road.
Usually we head North past Stone Toad, the new Samaritan Counseling Center and turning from the trail on to Province Terrace at Festival Foods. We go past ThedaCare on Midway to go home. This picture is a rough sketch of the complete route in red ink: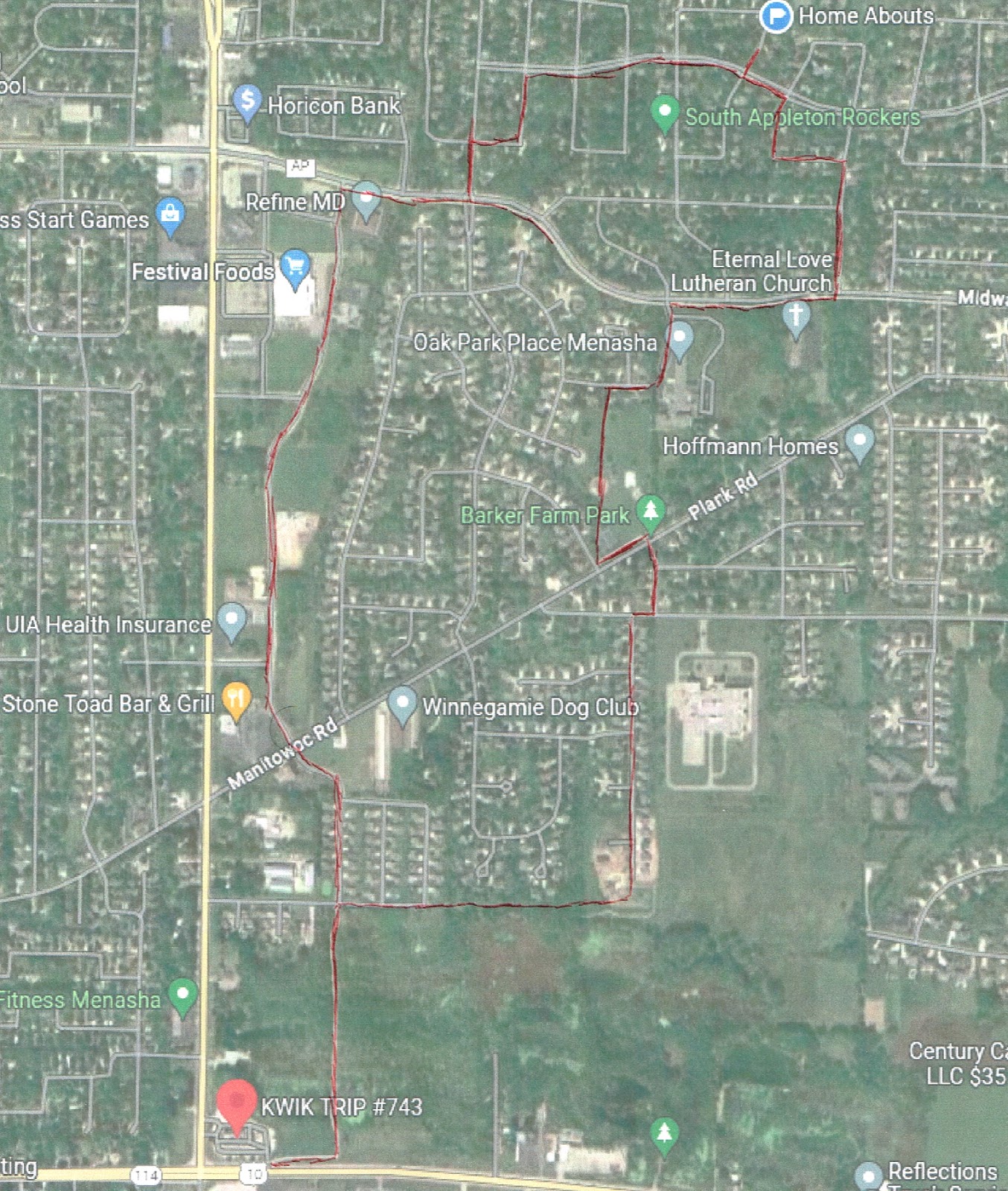 We enjoy this ride for safety, fun and fitness. If you ride a bike or trike, what's your favorite route?